G`day everybody,
Id like to draw your attention to the contemporary copyright situation were in.
The music that I make consists to a great extend of "found material", means audio samples drawn (should I say "stolen"?) from various sources such as TV, radio, the web, cassette tapes, records etc.
I don`t create my own lyrics because I have no story to tell.
Using existing material has an old tradition in the visual arts: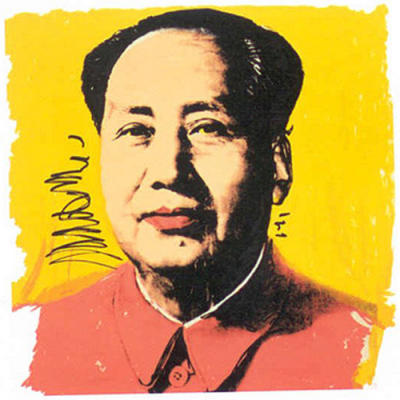 I have serious doubts, whether Andy Warhol ever paid a single cent to Mao for using his portrait. I assume, neither did he pay Walt Disney for using a picture of Mickey Mouse nor to Campbell for using a portrait of their tomato soup can.
In fact copying has gone on in art and music throughout the ages, from "quoting" in classical music compostions, to homage and parody.
Now, if I want to use fragments of existing audio material in order to use it in a different context, say the refrain of Harry Belafontes "Island in the Sun" with a heavy thunderstorm in the back or whatever, I have to ask for permission & eventually have to pay a clearance fee. Just recently I made an enquiry for permission to use a sermon by Mrs. Kathryn Kuhlmann, a famous U.S. evangelist who died in the mid 70s. To be frank, I dont expect to be granted that permission by her estate.
So there`s almost no way for me to publish my music anywhere on the web without committing a crime

:
"Consider the starkly stupid proposition that collage has now become illegal in music unless the artist can afford to pay for each and every fragment he or she might want to use, as well as gain permission from each and every owner." (Negativland)
In other words, certain forms of artistic expression are in the process of extinction due to the fact that an industry is totally in control of all the material.
Why can't everyone just follow the rules and do it the legal way?
Again this is Negativland :
"Negativland remains on the shady side of existing law because to follow it would put us out of business. Here is a personal example of how copyright law actually serves to prevent a wholly appropriate creative process which inevitably emerged out of our reproducing technologies.
In order to appropriate or sample even a few seconds of almost anything out there, you are supposed to do two things: get permission and pay clearance fees. The permission aspect becomes an unavoidable roadblock to anyone who may intend to use the material in a context unflattering to the performer or work involved. This may happen to be exactly what we want to do. Dead end. Imagine how much critical satire would get made if you were required to get prior permission from the subject of your satire? The payment aspect is an even greater obstacle to use. Negativland is a small group of people dedicated to maintaining our critical stance by staying out of the corporate mainstream. We create and manufacture our own work, on our own label, on our own meager incomes and borrowed money. Our work is typically packed with found elements, brief fragments recorded from all media. This goes way beyond one or two, or ten or twenty elements. We can use a hundred different elements on a single record. Each of these audio fragments has a different owner and each of these owners must be located. This is usually impossible because the fragmentary nature of our long-ago random capture from radio or TV does not include the owner's name and address. If findable, each one of these owners, assuming they each agree with our usage, must be paid a fee which can range from hundreds to thousands of dollars each. Clearance fees are set, of course, for the lucrative inter-corporate trade. Even if we were somehow able to afford that, there are the endless frustrations involved in just trying to get lethargic and unmotivated bureaucracies to get back to you. Thus, both our budget and our release schedule would be completely out of our own hands. Releases can be delayed literally for years. As tiny independents, depending on only one release at a time, we can't proceed under those conditions. In effect, any attempt to be legal would shut us down.
…
The question we want you to consider is this: Should those who might be borrowed from have an absolute right to prevent any such future reuses of their properties, even when the reuse is obviously part of a new and unique work? Do we want to actually put all forms of free reuse under the heading of "theft" and criminalize a valuable art form such as collage? – A form which may involve controversial social/cultural references and cannot operate true to its vision when permission is required. Present copyright prohibitions appear unable to appreciate the flow of the art forest because they are forever fixated on the money trees."(http://www.negativland.com/news/?page_id=22)
It should also be mentioned that all this creative re-use of material rarely if ever puts new work in economic competition with its sources.
Finally it ought to be clear that the work of an author should be fully protected against any form of copying that intends to make money with other people`s intellectual properties (such as bootlegs).
There are various propositions for an alternative copyright law, especially the <FAIR USE> concept or <Creative Commons>
Just a little snack for thought…
Thanks for your attention!
JC