So I just installed the libraries that are free for Halion SE 3, but even though the Steinberg Library Manager says I've successfully registered everything, this pops up everytime I open Cubase 10 Pro, and none of the libraries show up in Halion SE 3: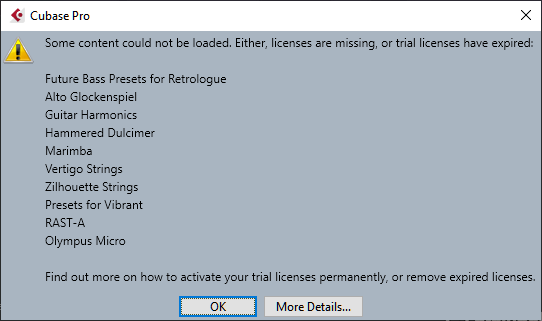 I've reinstalled the eLicenser Control Software multiple times, ran maintenance, and none of libraries work. I've reinstalled Cubase 10 Pro as well and updated to the latest version to no avail. I'm running Halion SE 3.3.0 which is the latest version. My Usb Licenser is connected to the front panel io on my desktop tower, running an i7 4770k with 16gb of ram and a GTX 770.
Running Windows 10 Pro, and Cubase 10 Pro and all my libraries are installed on a 1tb SSD, separate from my bootdrive. Everything else is working fine except these libraries.
Does anyone have a fix?
I'd love to get started messing around with all the new sounds.
Cheers