Three questions about the mixer:
How do I hide a track in the mixer? I see the 'Can Hide' options but don't see how to actually hide a track and can't find this in the Manual. Now that I'm controlling so many audio tracks with group channels I want to hide the tracks themselves in the mixer.

\
I'm trying to understand what is being indicated in the below screenshot, see my highlight in orange: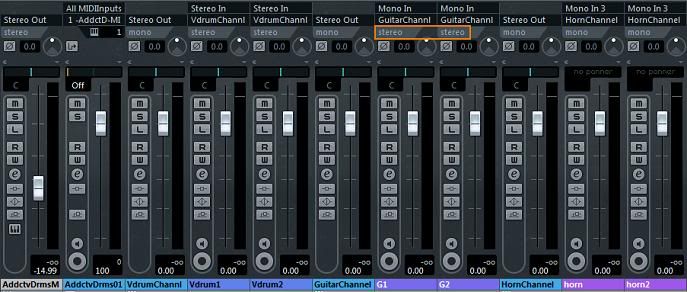 The Manual says this indicates the "Speaker configuration"(pg.147). The reason I'm confused is that the only tracks that are stereo on the input routing are the Vdrum(as you can see to the left those indicate "stereo" as the "Speaker configuration" as well, which doesn't bug me since they are in fact a stereo track) but the guitar tracks are coming in on mono channels per the input routing in the VST Connections(Inputs/F4) so just what exactly is causing those guitar tracks to show "stereo" there in the mixer(note, that is a duplicated mono track, that's why there are two) and what exactly does the "Speaker configuration" being designated as "stereo" affect, if anything?


3. Is there not a way to revert a knob or fader change back to it's previous state, ie:undo? Sometimes I hit a fader by accident with the mouse and can't remember where it was. Is there a history for these changes?