I am currently trying to set up my recording interface (Audio Kontrol 1) with my Cubase LE4. I was able to successfully record 2 years ago but had to reformat computer and now I'm trying to reconfigure everything but can't seem to get it going. When I clicked on "Device Setup", Cubase picked up the in-signal from my Logitech C615 webcam's microphone. I tried disabling it to see if Audio Kontrol would be detected instead. Sure enough, Audio Kontrol does show up on the Device Setup list as an in-signal.
However, once I go to "VST connections" under Input tab and click on the audio device list, Audio Kontrol 1 does NOT show up like it used to. Instead, the list only shows ASIO DirectX Full Duplex Driver…Not sure what that is even for. I have attached some screenshots of my past configuration settings and current settings that aren't working.
VST Connections

Then

Now
Device Setup images too big to display on here


http://s12.beta.photobucket.com/user/fobbyboy/media/DeviceSetupOld_zps9e5f88c4.jpg.htmlThen
http://i12.photobucket.com/albums/a250/fobbyboy/DeviceSetupnew_zps13d8b1ee.jpgNow
Oh and one more thing, whenever I load a cubase project file, I get a pop up notification saying that the in-ports aren't mapped and I get the options of choosing 2 things as shown in this image: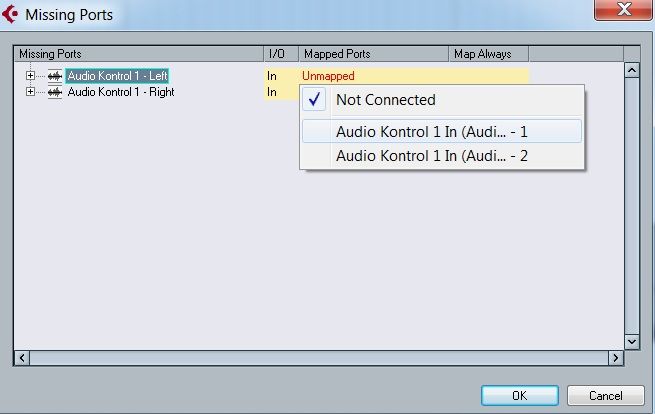 Any help and advice will be greatly appreciated!