Reaper is only 60 bucks. Better than the 2000 a year for Pro Tools wtf
Nuendo = to be pay 1x 2000


Pro Tools doesn't cost 2000 dollars for one year of use. Not sure where you got that from…
My exaggeration is from an emotional response that I should keep off the forums. Noted. I just hate pro tools. Reaper works great. Sorry…?
When the "AUDIO TO REPLACE VIDEO" will be ON ? it's an essential feature for a post-production DAW!
I'm interested in this option too. I'm yet to upgrade from 8 to 9 because of this reason as it's something I use a lot. Has there been any word from Steinberg if this feature is coming back?
Another interesting option for replacing audio in video - tried it yesterday - seems to work fine and is free -
https://audiospot.audio/audiospot-creativetools
And here what facebook timeline spitted out today
https://vidplayvst.com/vidrender.htm and https://vidplayvst.com/index.htm
That's exactly what Swi described in the beginning of the thread. Render small clips of the timeline with new audio
for 18 € in total. I didn't tried it though. And the video player as VST is kind of clunky solution rather aimed at FL Producer.
Still it would be really nice if Nuendo would intergrate this feature.
When companies offer a similar functionality for a small money or even for free, it seems not to be a rocket science.
+1 for GAME development, working on hundreds of animations, currently the work flow is to bounce out each one to a wav, open the wav in another editor, convert the bitrate / sample rate - paste it onto the video.
Some templates would also be nice for usages: ie low quality video playback with good audio for 'approval' process
I also use a lot of bouncing marker cues - if they could include the video on each that would cut all the post linking work to nothing.
+1
I'm spending a lot of money to talking to my psychiatrist about this topic,
and my childhood with "replace audio in video files" function
Hey guys, I know it's not exactly what you expect but in some way it is even better.
This ToolKit has much more to offer and it's super fast.
To name just a few: replace audio in ANY kind of video file, separate audio and video streams, add more audio streams to the same video and more.
https://audiospot.audio/audiospot-creativetools
Replace audio in video function in MediaER app in the Show and tell video (20min 14sec):
https://youtu.be/IotmaaVe85I?t=20m14s
Hope you'd like it and share it with your friends.
Cool trick for windows: To add "Open In MediaER" as Post Process in Steinberg's "Export Audio Mixdown" window:
Download this and follow the instructions:
https://www.dropbox.com/s/udh3akj4cbb7kyo/Open%20in%20MediaER%20-%20Stenberg%20script_[for_Windows].zip?raw=1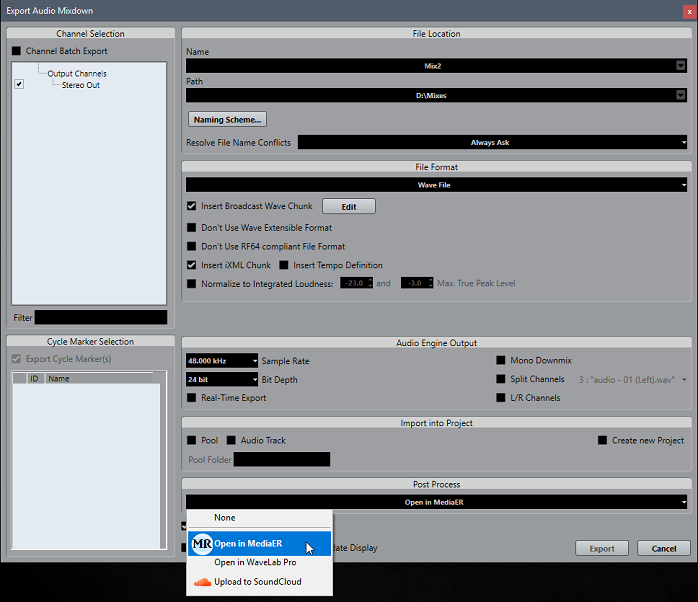 I assume this "cheat" can be accomplished in macOS as well but I'm not familiar with the Steinberg\Audio Export Post Process Scripts OSX folder path, if anyone knows the path please try my script and share the results.
Will we please be able to render videos with compressed audio ?
In previous versions of Nuendo we could only replace audio with uncompressed WAV PCM and when it comes to large video files, it is a PITA in terms of filesize.
In the meantime I still use N7 to do that, why do you guys need any other software since your N8 license allows you to use N7 ?
Regards
Yannick
hope it will come soon now
I hope this will be a novelty of 8.4, almost every day I think about it. Maybe the option "multiple export" would be integrable to export several test-videos at the same time with different versions of the sound?
+1 here also but with the addition that it works as a wrapper, so leave the source videostream 100% in takt. I can imagine that encoding video is not a thing we can ask from Steinberg/Yamaha,… Unless it's only for uncritical preview purpose.
I hope Cubase 10 will show the way today…
I hope not and this will be a Nuendo exclusive Feature. Otherwise there will be little to no reason to use Nuendo over Cubase. They already got the Edit Mode / Virtual Reality / AAF and Audio Alignment as Nuendo features with Cubase 10 now.
I do not agree with that, I'm just waiting for Steinberg to continue inventing new post-production features for Nuendo to justify its price in relation to Cubase. So I'm not devastated when I see that Cubase is growing because I like to believe that new things will happen on Nuendo to allow it to maintain his lead.
It's dumb to have a software that allows you to make music for the image but does not allow you to do an export of your work, it feels like you are using a trial version of Cubase or Nuendo… even basic DAWs have that feature.
Another request here. This is something I use daily and currently have to go to another machine and work with Videoslave. Not the end of the world but slows down my workflow would vastly prefer to do it as an export step in Nuendo!