We are pleased to announce the immediate availability of the latest update to Dorico Pro 4, Dorico Elements 4 and Dorico SE 4, version 4.2. In addition to the usual clutch of bug fixes and small improvements, this update reintroduces the percussion editor in the Key Editor, and also brings some important improvements to linked mode.
Check out this brief introductory video from my colleague Anthony: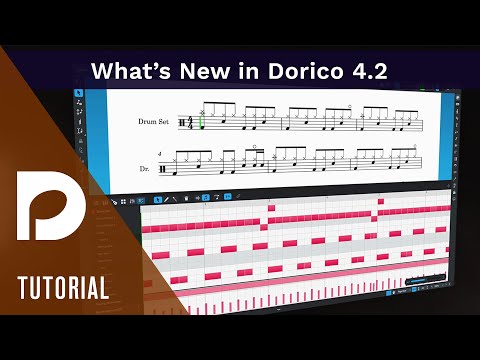 You can also read all about the new features on the Dorico blog here:
Installing the update
Dorico 4.2 is a free update for existing Dorico Pro 4, Dorico Elements 4 and Dorico SE 4 users. If you are currently running Dorico Pro 3.5 or Dorico Elements 3.5 or earlier, you can buy an update to Dorico Pro 4 or Dorico Elements 4 from the Steinberg online shop – and until 28 July 2022 you will save 30% in the Steinberg Summer Deals sale.
Assuming you already have an earlier version of Dorico 4 installed, you can update to Dorico 4.2 free of charge. First, quit Dorico and any other Steinberg application that you are running on your computer. We recommend that you run Steinberg Download Assistant, which will automatically update Steinberg Activation Manager to the latest version, along with any other elements of the Steinberg run-time environment (including eLicenser Control Center and Steinberg Library Manager) that may be outdated on your computer.
Once Steinberg Download Manager has finished updating any required components, go to My product downloads in the left-hand list, where you will find Dorico Pro 4, Dorico Elements 4, or Dorico SE 4, depending on which product you have installed. Select this, and on the right-hand side you will see Dorico 4.2 Application Installer. Click the Install button immediately to the right. This will download and run the Dorico 4.2 installer.
On Windows, pay close attention to whether it is recommended to restart your computer at the end of the installation process: if recommended, do restart your computer, as this should avoid font cache problems that you might otherwise encounter, which result in some icons in Dorico's user interface and some music symbols in the score not appearing correctly until you restart your computer.