In all I've ever remember reading/understanding about VST System Link, it always has had the configuration/routing from one machine to the next, as in a 'ring' they say - this includes the System Link Data, as well as the audio - or so I thought. I know about the added latency with VSL data with each added machine in the network, and it's supposed to make the system seem 'sluggish' etc, though claims 'sample accuracy'. Assuming that audio usually (but not necessarily) was supposed to flow through the same cabling as VSL data, the audio within the system also has added latency. This makes perfect sense that the latency of the audio would at some point be very perceivable, but how many machines in the network will this begin to be very noticeable, I don't know…?
Then I saw this article while researching…
http://www.futurestyle.org/archives/s/steinbergcubasesx.htm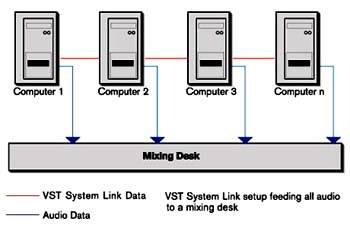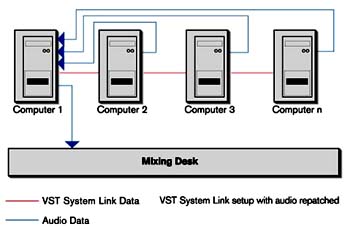 It shows things a little different than I had for the most part understood. Instead of passing accumulated audio from one machine, then into the next, then next again etc along with VSL data in the same cable, adding more latency in the audio… this shows the audio going from each 'slave' machine (separate from VSL data) merging into ONE 'master' machine. This at least, appears that there would be less audio latency involved, merging separate feeds into one, than having the audio go 'through' everything in a daisy-chain. Thereby, whether you have 2 machines or 10 machines, the audio latency would be the same, and it's only the VSL data that get's accumulated latency, ie; reaction time etc… That's how I understand it anyway.
All the above as opposed to this, where the audio & data are shared and accumulated…
http://vstalik.org/VSTSystemLink/VST_System_Link.jpg
Question is, in order to have all the audio feeds separate from the data feeds, all merging into one, rather than in/out/in/out of all machines, I'm thinking the link may be demonstrating 'analog' audio feeds instead of 'digital' audio?..unless there's an interface capable of several s/pdif's or adat etc. Even most newer interfaces I've seen have 1, 2 or as in RME, they have 3 s/pdif's pairs of I/O in their Digi-face.