On Cubase 11 Pro, I would like to pitchbend several notes in a chord into opposite directions at the same time with a single VST instrument and with the same preset/sound and in the same Key Editor. Is that even possible? I thought it is one of the features of the MPE but I have now spent one whole day trying to do just that but without no success. I tried it with Retrologue, Padshop and HALion Sonic SE 3 (all of which should be MPE capable).
Finally I found this video last evening, watched it and thought hey that should be easy…
MPE in Cubase - Basics / youtube: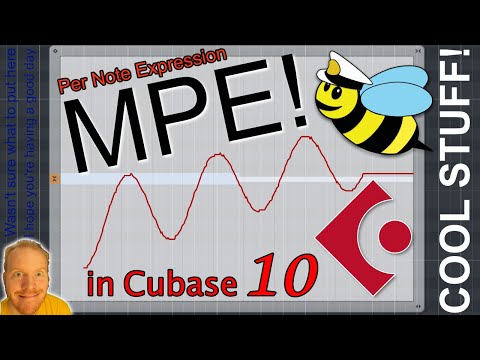 So I did this:
1. Made Retrologue / Padshop / HALion Sonic SE 3 tracks. (with MPE presets)
2. Assigned various Channels (2-8) to those.
3. Drew a note on the Key Editor and made sure the note was selected and then marked the 'Pitchbend' checkbox from under the Inspector / Note Expression section. I also marked the check box: 'Record MIDI as Note Exp.' and turned on the 'Overdub Note Exp.' -button.
4. Chose from Cubases drop down menu (still the drawn note selected): MIDI / Note Expression / Open Note Expression Editor → to where I drew with the pencil tool a pitchbend curve and then tested it by clicking and holding mouse on the note (it worked and played the drawn pitchbend curve correctly [with MPE preset sound]). Finally assigned the Channel # of the individual note as #2.
5. Drew the second note in the same Key Editor two octaves above the other note. And as selected, assigned the Channel of this second note as #3 and unchecked the checkbox: 'Pitchbend' (from the Inspector / Note Expression section). Finally opened the individual/separate Note Expression Editor for this second note and checked that there is no pitchbend data or anything else (and tested the note by clicking and holding it and it played thru without no pitchbends).
NOW… when I press the play from Cubase IT BENDS THE BOTH NOTES!? Why is that? What am I doing wrong or missing out? Really frustrating and time consuming! I also tried it so that I drew a pitchbend curve for the second note that was going in the opposite direction but then it just sounded like a horrible mess (because the pitchbend tried to go in both directions simultaneously at a fast pace on both notes).
ps. I'm well aware that I could make a second instance of the same synthesizer and then bend the notes whatever way I would want. But since this should work with MPE as well, I would like to execute this function through it. Actually what I really would like to do is to draw one long note (for example one bar/measure) that sustains/keeps the same pitch and assign the Cubases loop on and hit the play and then play various notes using the same synthesizer/preset sound AND do pitchbends (with a pitchbend wheel or an expression pedal) over the note that keeps its pitch.
Could someone help and spell out, how do I succeed in this matter?