Hi all I think i need some help!
I have noticed that my system is rather heavy on CPU/performance.
I am simply trying to play live an arturia plugin on a midi keyboard, with it loaded as a plugin into Cubase 11. I have selected 256 buffer size (on my interface) as any higher and the latency is too disruptive. I've optimised cubase as much as possible with online guides.
I'm continually getting spikes on the 'maximum' cubase performance meter and the windows resource moniter is telling me cubase is using 0-10% fluctuating. Is this normal? Seems crazy given it's only one plugin loaded ito an empty project (no other audio channels etc) and this laptop is supposed to be quite powerful. I have tried increasing buffer size to 512 and 1024 and the spiking stops - but the latency is too long for live playback.
Can anyone suggest what could be happening? See below all info and current settings.
Any help would be greatly appreciated.
VIDEO link here showing the meter spiking frenzy (at 256 buffer)…
Pic of studio setup…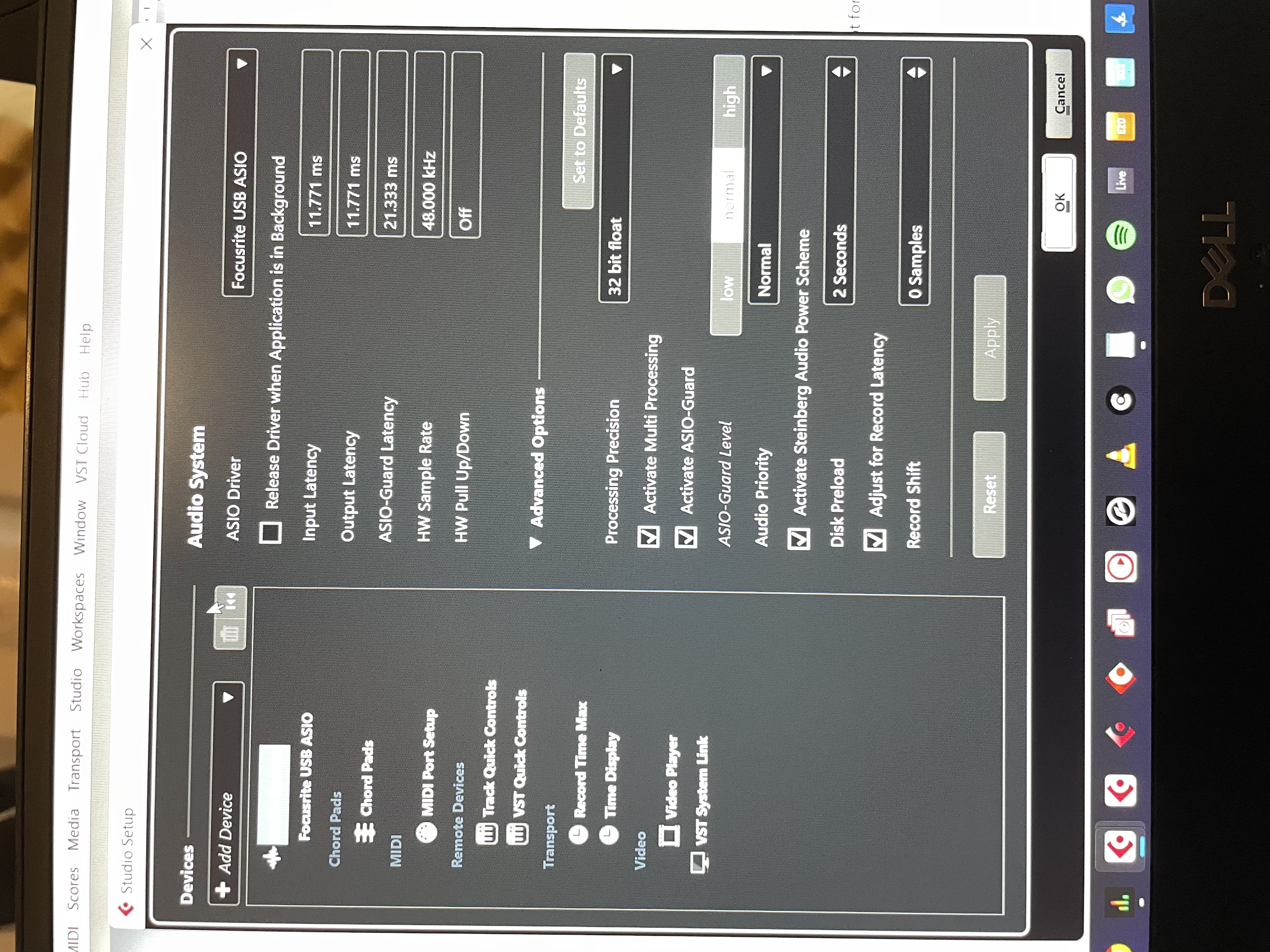 Thanks
Ross
System Info
Dell Precision 5530 PC laptop running windows 11 Pro 22000.613
Intel(R) Core™ i9-8950HK CPU @ 2.90GHz 2.90 GHz
RAM - 32.0 GB (31.7 GB usable)
Penty of free space on HD which is 1TB
DAW - Cubase version - Cubase 11.0.4.0
Audio Interface - Focusrite Claret 4pre USB (connected via USB C)
Cubase Settings
Optimisation settings already turned on include
Activate multi-processing' ticked
Activate ASIO guard - ticked
Activaye steinberg power scheme - ticked (guard level normal)
Details of Setup example described above
Example VST plugin loaded into Cubase - Arturia 'Piano V2' - (v2.6.0.3815)
Buffer size - 256 (which I feel is the maximum before I notice latency badly)
CPU - fluctuating up to 10% is being taken up by Cubase which seems like a lot for just one plugin and nothing else
'maximum' cubase performance meter is continualy spiking / peaking.
The peaking occurs at random and still happen even when I'm not playing anything