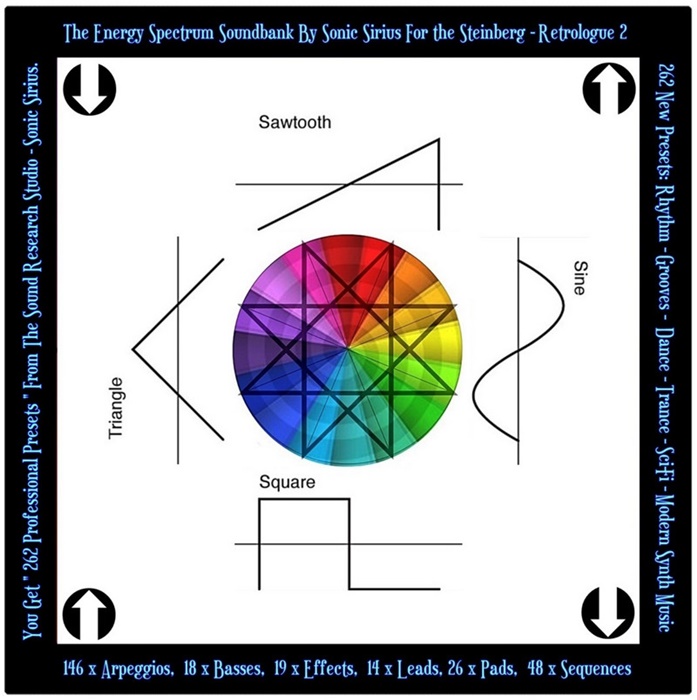 The Energy Spectrum Soundbank by Sonic Sirius for the Steinberg - Retrologue 2 VST Virtual Analog Synthesizer
Many Thanks To The Steinberg - Retrologue 2 Team For This Awesome Virtual Instrument
The flexible, intuitive Retrologue 2 emulates the warmth and fatness of classic analog
synthesizers, producing a wealth of sounds that will inspire you time and again.
You get 262 Professional Presets From The Sound Research Studio Sonic Sirius
146 x Arpeggios, 18 x Basses, 19 x Effects, 14 x Leads, 26 x Pads, 48 x Sequences
The Energy Spectrum Soundbank By Sonic Sirius For The Steinberg - Retrologue 2
• Inside the Download : 1 Soundset ' Energy Spectrum ' with 262 Presets
• Genre's: Dance - Trance - New Wave - Electro - Modern Synth Music
• Style's: Arpeggios - Basses - Leads - Pads - Sci-Fi's - Sequences
• Format & File Size : *. VSTPRESET / 1 MB
• For: Retrologue 2 v2.2.10.134 or newer
• Presets Sound Design by: Sonic Sirius
• Release Date: 11-2019
• Price: Free - Gift
Royalty Free Soundset License
All ' Sonic Sirius ' Freeware Soundsets they can be used commercially in
things like movies, games, and anything else you might need a cool
sound for. You may not however redistribute them for a profit.
Sonic Sirius - Synthesizer Soundsets
Freeware Soundsets for Software and Hardware Synthesizer
http://ohlenbostelhelge.magix.net/public/
All brand names and trademarks mentioned on this site are used
only for reference purposes. Sonic Sirius is not affiliated or
a representative of any of the companies mentioned.
FREE DOWNLOAD
https://www.mediafire.com/file/qzts7d7nkxf4oul/The_Energy_Spectrum_Soundbank_by_Sonic_Sirius_for_the_Steinberg_-_Retrologue_2.rar/file
https://www.kvraudio.com/product/the-energy-spectrum-by-sonic-sirius
http://ohlenbostelhelge.magix.net/public/misc.htm