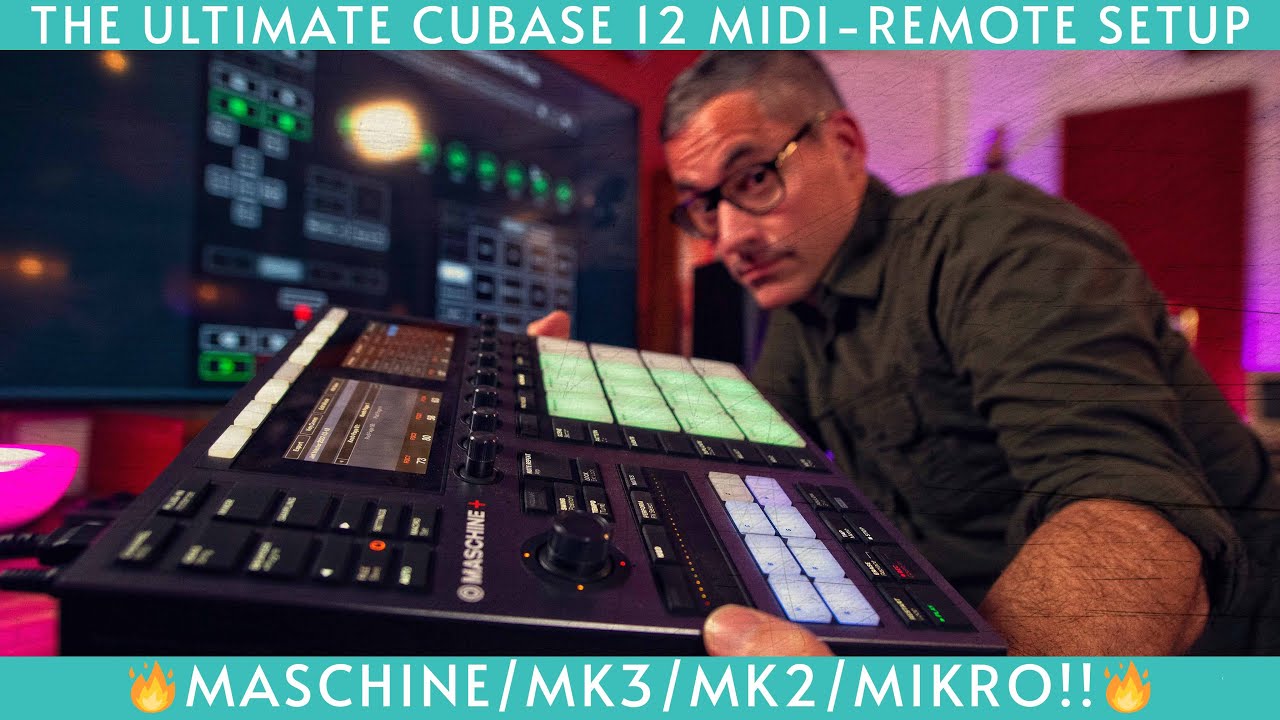 Jef Gibbons made an excellent video about setting up his Maschine controller with the new MIDI Remote.
Fantastic video massive help! I'm new to Cubase and use maschine so love this. Is there a template of this you can download please?
is this what you're looking for?
beginner / purchase question. Can I use those Midi functions also with the Cubase 12 elements version, or do I need to purchase the Artist version? Urgent - thanks
You may be interested in this page:
This is incredible. Can't wait to get stuck in to this. I just bought a Komplete Kontrol S49 mk2 so i'm gonna apply similar principles to the 8 encoders and buttons.
I don't think the "Maschine control" buttons are available to be custom mapped in Cubase though, right? Think they're locked to Maschine software functionality only. Same with the transport controls, think they're locked.
If so, i'm thinking i might go pickup a cheap used Maschine mk2 to achieve this setup. Can the exact same principles apply? Are there any key differences or limitations with the mk2 compared to the mk3 in the video as far as MIDI Remote control in Cubase?
Super exciting. Thanks to Jef and Nico for their efforts
The Maschine MK2 will effectively work almost the same. It just has a few less buttons and the endless encoder isn't quite as 4D and no touch strip.
But for the most part it works just as well. And the MK2 can often be found in the used market for a lot less than the MK3 - so it's a lot better value for money as a remote controller.
I find the Maschine MK2 to be a very competent MIDI control surface.
Hi Nico, I found a good deal for a Mikro mk3 on the used market. Just checking, can the Mikro mk3 be set up in the same way as the big Maschine?
Obviously there would be less buttons/functionality, but I'm just wondering if there's any compatibility problems that the bigger maschines don't have? Would hate to buy it and discover I can't use it to control the Cubase DAW or create custom midi remote mapping
I don't have a Maschine Micro myself, but I'm not aware of any additional compatibility issues compared to the other models of Maschine controllers.
Maschine MK1 works great here too based on the same idea, only not on recent macs due to no driver from NI.
Maschine can work as a controller for Maschine software (of course) but with a push of a button on the hardware, as a fully configurable midi controller with 9 mappings/pages
maschine controllers understand "mackie", they can show the scribble script stuff on the display from mk1 on - soooo much potential